Objective of the workshop
To show the latest advances regarding clinical decision support systems (CDSS) and Big Data for oncology, in view of the results of the DESIREE Horizon 2020 project, and the future perspectives. We will count on different clinical and engineering experts showing advances on decision support systems, image analysis, computational modelling, as well as the clinical perspectives on the use of such systems and different related initiatives at local and international level on CDSS and Big Data for oncology.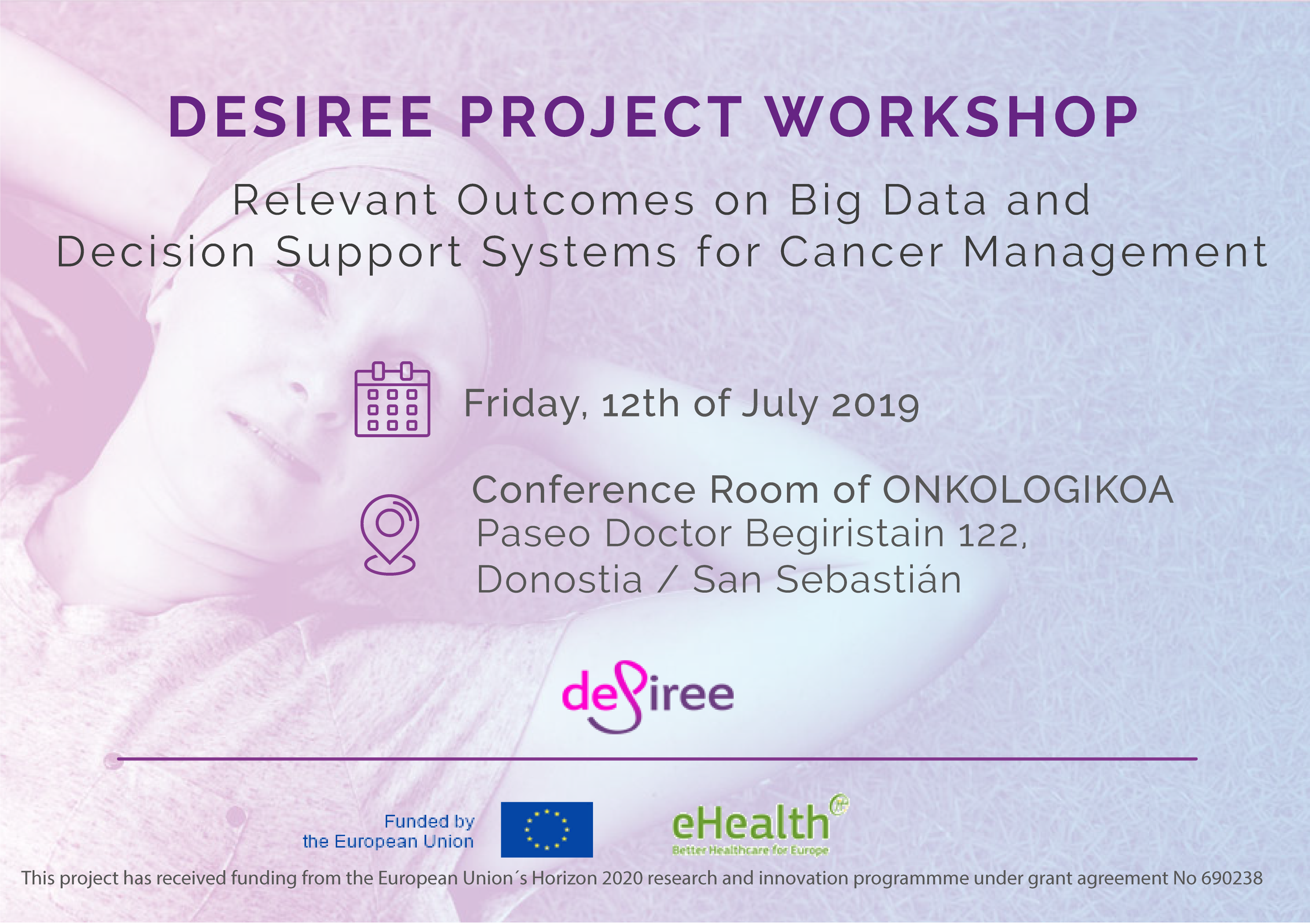 Oriented mainly to: 
Clinicians in the field of oncology, Researchers on the field of data analytics, Big Data, image analysis, computational modelling and artificial intelligence in the medical field, Epidemiologists willing to analyze population-level outcomes, Industry representatives from the IT, pharma and biomedical fields interested in incorporating these innovations in their future products or services, Hospital managers and public policy makers willing to know the benefits of these innovations for the public health system
 
When and where?
Friday, 12th of July 2019
Conference Room of ONKOLOGIKOA
Paseo Doctor Begiristain 122, Donostia – San Sebastián
Free Registration
This Workshop is free and has limited places.
You can register through this link.
 Agenda
 
9:00 – 9:15  Workshop Introduction & DESIREE Project Presentation, Iván Macía, Project Coordinator, Vicomtech
Session 1 -  DESIREE Technology Highlights and Results
9:15 – 9:30  Advances in Medical Image Analysis and Machine Learning for Segmentation and Classification of Breast Tissue and Tumours, Bryan Scotney, Ulster University (UK)
9:30 – 9:45  Advances in NGS Analysis - GeneSystems Platform, Carla Castillo Di Giacinto, Sistemas Genómicos (Valencia)
9:45 – 10:00  Radiobiological modelling: assessment of radiation induced toxicities, Ilias Sachpazidis, Medical Innovation Technology (Greece)
10:00 – 10:15     DESIREE Clinical Decision Support: guideline-based, case-based and experience based DSS, visual analytics, Naiara Muro, Vicomtech
10:15 – 10:30    DESIREE Demo, Amaia Ugarriza, Bilbomática
10:30 – 11:00     Coffee Break    
Session 2  - Clinical and Patient Perspectives       
11:00 – 11:15     Complexity of Clinical Decisions in Breast Units: role of Decision Support Systems,  Brigitte Seroussi, INSERM / Assistance Publique Hopitaux Paris, France   
11:15 – 11:30     Validation of DSS Systems for Oncology. The DESIREE approach Sylvia Pelayo (INSERM, France)
11:30 – 11:45     Incorporation of the patient in the decisional process and use of PROMs, Ander Urrutikoetxea, Onkologikoa
11:45 – 12:00    Experiences in Health Outcomes Measurement of patients with cancer. Isabel Álvarez, Hospital Universitario Donostia / Biodonostia 
12:00 – 12:15     Open Discussion
12:15 – 12:30     Coffee Break    
Session 3 - Relevant Initiatives on Big Data and DSS for Oncology
12:30 – 12:45    Project NUBIA - Quantification of novel breast cancer biomarkers via pathology image analysis. María del Mar Vivanco (CIC-bioGune), Alba Garín-Muga (Vicomtech)
12:45 – 13:00   Project Big Medilytics – Improving Healthcare in Europe through Big Data, Alexandra Muñoz, INCLIVA (Valencia)
13:00 – 13:15   Project BD2DECIDE – Decision Support System for Head and Neck Cancer, Manuel Ottaviano (Universidad Politécnica de Madrid)
13:15 -13:30     Project NeverMind –  Tools for self-management and risk reduction of depressive symptoms in patients with severe somatic disease, Manuel Ottaviano (Universidad Politécnica de Madrid)
Project NeverMind – Mental Health Support in Cancer  Manuel Ottaviano (Universidad Politécnica de Madrid)
13:30 – 14:00    Multiscale model, Aesthetic outcomes prediction. Marc Garbey, Houston Methodist (USA)
14:00 – 14:15    Workshop conclusions, next steps & farewell, Iván Macía, Vicomtech
14:15     Lunch